Strong demand at this year's Monterey auctions saw numerous world auction records established, including the star attraction at Gooding & Company's Pebble Beach sale, a 1995 McLaren F1, which set a new high-water mark for the model at $20,465,000. Estimated to fetch in excess of $15 million, barely used and in time-warp condition with just 390km from new, the car was ordered in unique Creighton Brown livery by its first Japanese owner, residing in his private museum until 2012 before passing to the consignor – its third keeper – who imported the F1 into the US in April 2013.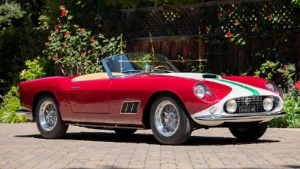 Ferrari 250 GT LWB California Spider Competizione - Brian Henniker © Gooding & Co
Gooding also sold the second most expensive car at Monterey, with its recently-restored 1959 Ferrari 250 GT LWB California Spider Competizione changing hands for $10,840,000 (est. $10-12m); while other highlights included new auction records for a 1968 Lamborghini Miura at $1,902,500 (est. $1.4-1.8m) and a 1929 Bugatti Type 35 B Grand Prix at $5,615,000 (est. $3.5-4.5m).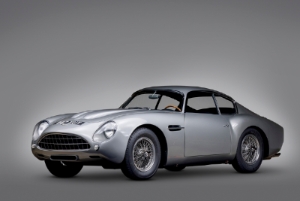 Aston Martin DB4GT Zagato - Rasy Ran ©2021 Courtesy of RM Sotheby's
RM Sotheby's three-day 159-lot auction featured no less than 56 cars with million dollar-plus estimates, where the top performer was a 1962 Aston Martin DB4GT Zagato from The Paul Andrews Estate Collection which made $9,520,000 (est. $11-14m).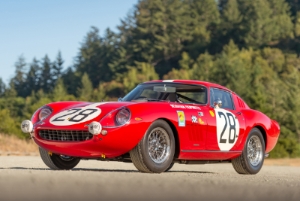 Ferrari 275 GTB/C - Robin Adams ©2021 Courtesy of RM Sotheby's
1960s machinery filled RM's top three sales; with a 1962 Ferrari 268 SP that ran as a Scuderia Ferrari Works car in the 1962 Le Mans 24 Hours bringing $7,705,000 (est. $8-10m), and a 1966 Ferrari 275 GTB Competizione that notched up class wins in period at Le Mans, Spa and Imola also raising $7,705,000 (est. $8-10m).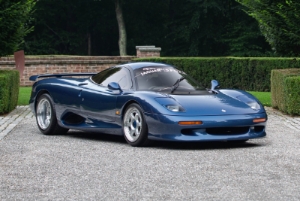 Jaguar XJR-15 - ©2021 Courtesy of RM Sotheby's
RM achieved record prices for an 8,500-mile 1995 Ferrari F50 at $3,965,000 (est. $3.6-4m) and a 1991 Jaguar XJR-15 with only 78 miles at $1,902,500 (est. $1.75-2.1m) – underlining the Jaguar's spectacular rise in recent years with RM previously selling a 1,400-mile XJR-15 for £218,400 in 2014.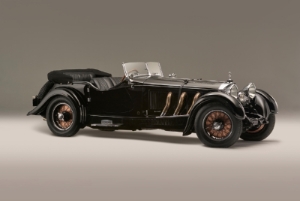 Mercedes-Benz 26/120/180 S-Type - © Bonhams
A 1928 Mercedes-Benz 26/120/180 S-Type Supercharged Sports Tourer headed the results at Bonhams, hammered away for $5,395,000 – blitzing its $3-4 million pre-sale estimate. The S-Type had been bought 'sight unseen' for $15,000 by the vendor's father in 1964, remaining in the family ever since.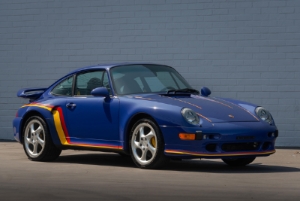 Porsche 911 Turbo S - © Bonhams
Other estimate-busting success included a 1955 Mercedes-Benz 300 SL Gullwing, in single-family ownership for 40 years, which drew $1,710,000 (est. $1.2-1.5m), and a 1,688-mile 1997 Porsche 911 Turbo S at a record breaking $654,000 (est. $260-320k). Crunching the numbers for the Big Three; RM Sotheby's posted a $148.5 million auction total and a 90% sell-through rate, Gooding & Co reported $107 million/87% and Bonhams' single-day sale netted just under $37 million/89%.
| | | | |
| --- | --- | --- | --- |
| Glenmarch - Monterey Top 20 sales | Price USD | Price GBP | Auction House |
| 1995 McLaren F1 | $20,465,000 | £14,937,956 | Gooding & Co |
| 1959 Ferrari 250 GT LWB California Spider Competizione | $10,840,000 | £7,912,409 | Gooding & Co |
| 1962 Aston Martin DB4GT Zagato | $9,520,000 | £6,948,905 | RM Sotheby's |
| 1962 Ferrari 268 SP | $7,705,000 | £5,624,088 | RM Sotheby's |
| 1966 Ferrari 275 GTB/C | $7,705,000 | £5,624,088 | RM Sotheby's |
| 1958 Ferrari 250 GT TdF | $6,000,000 | £4,379,562 | RM Sotheby's |
| 1929 Bugatti Type 35 B Grand Prix | $5,615,000 | £4,098,540 | Gooding & Co |
| 1928 Mercedes-Benz 26/120/180 S-Type | $5,395,000 | £3,937,956 | Bonhams |
| 1958 Ferrari 250 GT Cabriolet Series I | $4,405,000 | £3,215,328 | Gooding & Co |
| 1963 Shelby Cobra 289 Works | $4,130,000 | £3,014,599 | RM Sotheby's |
| 1930 Duesenberg Model J Disappearing-Top Convertible Coupe | $3,965,000 | £2,894,161 | Gooding & Co |
| 1995 Ferrari F50 | $3,965,000 | £2,894,161 | RM Sotheby's |
| 1953 Ferrari 166 MM Spider Series II | $3,855,000 | £2,813,869 | RM Sotheby's |
| 1959 Aston Martin DB4GT Lightweight | $3,855,000 | £2,813,869 | RM Sotheby's |
| 1967 Ferrari 275 GTB/4 | $3,662,500 | £2,673,358 | Gooding & Co |
| 2016 Ferrari F60 America | $3,635,000 | £2,653,285 | RM Sotheby's |
| 2014 Ferrari LaFerrari | $3,410,000 | £2,489,051 | Mecum |
| 2003 Ferrari Enzo | $3,360,000 | £2,452,555 | RM Sotheby's |
| 1968 Porsche 911R | $3,360,000 | £2,452,555 | RM Sotheby's |
| 1961 Aston Martin DB4GT | $3,305,000 | £2,412,409 | Gooding & Co |

Full Monterey results here: