The final Lamborghini Aventador coupe ever produced together with its one-of-one NFT made the headlines in April, when it fetched $1,603,125 at RM Sotheby's online auction. Digital artist Krista Kim and DJ, music producer Steve Aoki collaborated with Lamborghini's Ad Personam customisation program to create the one-off LP 780-4 Ultimae, with the buyer also owning a digital replica of the car as a GLB file.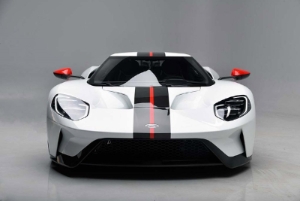 Ford GT Carbon Series – © Barrett-Jackson
Barrett-Jackson's Palm Beach sale brought strong results for both iterations of Ford's halo car, headed by a no-reserve 2020 Carbon Series GT with only 242 miles. A titanium exhaust, carbon fibre wheels and a polycarbonate engine cover contribute towards trimming 18kg off the standard car; Barrett's example came with an additional $55,000 in factory options and found a new home at $1,540,000. Also being sold without a reserve were a 2018 GT '67 Heritage Edition with an equally scant 295 miles that made $1,430,000 and a 2,147-mile 2006 GT Heritage Edition in Gulf colours which drew $704,000.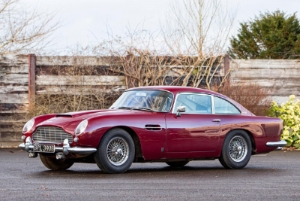 Aston Martin DB5 – © Bonhams
Bonhams returned to Goodwood for its Members' Meeting sale in triumphant style, achieving an impressive 90% sell-through rate. Now back in its traditional spring slot after last year's pandemic-disrupted calendar, all 16 of the Aston Martins on offer changed hands. Highlights included a 1964 DB5, owned by the consignor since 1969 and in need of restoration, that smashed its £280-350k estimate, selling for £506,000. Bonhams' Series 1 Lagonda was exhibited at the 1975 Earls Court Motor Show – one of only seven built in period – and featured a Richard Williams 7-litre engine conversion following its restoration by him in 2006. Guided at £200-300k, it was hammered away for £276,000, while a 1961 DB4 that was built for AMOC racing took £235,750.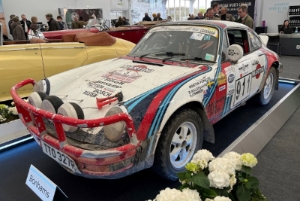 Porsche 911 Carrera – © Glenmarch
The sale also saw a Porsche 911 Carrera that competed in the 1977 London Sydney Marathon in the hands of Polish rally ace Sobislav Zasada and co-driver Wojciecj Schramm bring £207,000. A left-hand drive 1967 Maserati Mistral Spyder 4-litre with a manual gearbox, in single-ownership for the past 42 years, posted the second highest result on the day at £299,000 (est. £300-400k) and top Ferrari honours went to a recently-restored 1974 365 GT4 BB at a mid-estimate £253,000.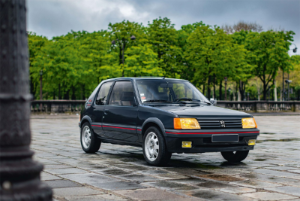 Peugeot 205 GTi – © Aguttes
In Europe, Aguttes held its second Tour Auto sale in Paris and once again proved that low-mileage Eighties classics are still hot-ticket items. None more so than their 1987 Peugeot 205 GTi, sold by them in November 2019 for €47,524 with 6,719km on the clock it set a new high-water mark for the model at €82,960 (est. €45-65k) still showing under 7,000km. A two-owner 1986 Renault 5 GT Turbo which spent the majority of its life in Sicily and had covered just 25,000km also comfortably outperformed its estimate, taking €41,660 (est. €20-30k).
Full April results here: