Given the long-awaited release of No Time to Die, we decided to take a look at some of the cars that have been driven, crashed and even taken for a swim by the world's most famous spy.
We have already written about the Aston Martin DB5, 007's best known choice of transport and arguably one of the most famous cars to appear on screen here. The DB5 makes a memorable appearance in Daniel Craig's final adventure as Mr Bond (and arguably his best performance in the role).
As the DB5 has been featured already, for this piece we have taken a look at some of the other cars to have appeared in Bond movies. This is by no means a ranked list, nor is it exhaustive – we are sure that you will have your own favourite.
Citroën 2CV
An unusual choice to start our list and a departure from the usual glamorous motor cars used by 007, the eponymous French favourite appeared in the 1981 film For Your Eyes Only and, while it was not Bond's own vehicle, it featured in a superbly choreographed chase sequence filmed in Corfu, a landscape that stood in for the mountains near Madrid.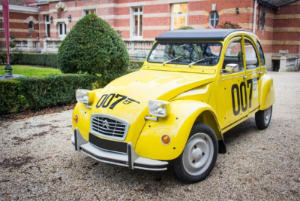 Citroën 2CV6 sold by Osenat, January 2020 €10,200 – © Osenat
With a bit of assistance from a crowd, who righted the vehicle after it rolled over, the little Citroen performs feats of acrobatics through olive groves to evade the villains in their Peugeot 504s. The car arrives eventually, battered and bruised, at the hotel in time for Bond's Martini – shaken, not stirred, of course.
Sunbeam Alpine
While Sean Connery's Bond made the DB5 so famous, his first car chase took place during the first ever movie and did not feature an Aston Martin, or even the Bentley that Bond drove in Fleming's novels. 1962's Dr. No featured a Sunbeam Alpine which was memorably pursued through Jamaica's Blue Mountains.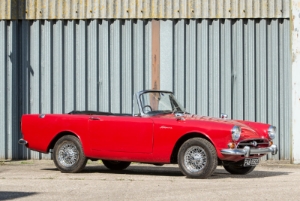 Sunbeam Alpine sold by Bonhams, July 2018 £12,075 – © Bonhams
Naturally, 007 outwits the henchmen in their La Salle hearse, which meets a fiery end courtesy of a conveniently placed construction crew. The chase features a filming technique known as rear window projection, hence the (by today's standards) rather crude shots as Connery steers, at times contrary to the picture in the background.
Alfa Romeo GTV6
Hailed by a certain Mr Clarkson as one of the best ever made, the Alfa's gorgeous GTV6 featured in a chase scene in the 1983 movie Octopussy, and for that, it's one that we don't think can be ignored.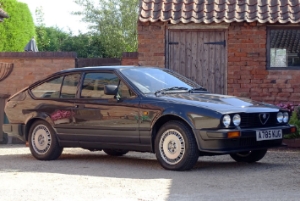 Alfa Romeo GTV6 sold by H&H Classics, October 2018 £16,312 – © H&H Classics
Having 'borrowed' the car from a lady making a phone call, Bond sought to evade the West German police in their 5- series BMWs and motorcycles before breaking into the US air base and bringing the car to a rather spectacular halt. Bond then dresses up as a clown and disarms the nuclear device. All in a day's work, Moneypenny…
Tuk Tuk
Staying with Octopussy, the producers managed to create a memorable chase scene involving one of India's most recognisable and ubiquitous vehicles and a professional tennis player. No, really.
Tuk-Tuk "Octopussy" sold by RM Sotheby's, September 2018 £7,800 – Dirk de Jager ©2018 Courtesy of RM Sotheby's
The Tuk Tuk is a three-wheeled vehicle used throughout Asia for the movement of people and goods. Powered by a modest 350cc two stoke engine, in this sequence it still manages not only to perform a wheelie, but also shows a reasonable turn of speed as Bond is chased through the streets of New Delhi (although filming was done in Udaipur) by Kamal Khan's Faberge egg-crushing henchman Gobinda.
And the tennis player? Vijay Amritraj was cast as Bond's MI6 contact and used his racquet effectively during the chase to fend off said henchmen.
BMW 750iL
Pierce Brosnan's second outing as 007 was in the 1997 film Tomorrow Never Dies. With a storyline based around a media tycoon's attempts to manipulate world news stories, Bond was – as usual – equipped with the latest gadgetry to save the world.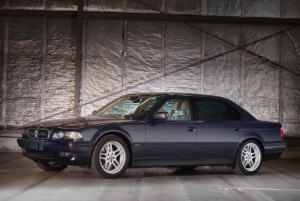 BMW 750iL sold by RM Sotheby's, April 2019 €43,700 – Tom Wood ©2018 Courtesy of RM Sotheby's
This time around, Bond's range-topping 750iL BMW (the L standing for long or extended wheelbase), reflected the studio's product placement agreement with BMW. This car was no normal executive express, however. It featured a roof-mounted rocket launcher, bonnet mounted cutting attachment, tear gas and bullet/sledgehammer-proof glass to ward off unwanted attention, touch ID glove box for weaponry, and crucial parts of the villain's news satellite. The piece de resistance? The ability to drive the car by remote control via smartphone.
Bond put this to use during a scene in a multi-story car park in Hamburg, although the sequence was actually filmed in London's Brent Cross shopping centre car park. Having remotely started the car, Bond pilots it from the back seat using the camera on his phone, evading the pursuing gang of henchmen as the car heads to the top floor of the car park. Bond jumps clear and, still using his phone, sends the BMW through the wall and into the ground floor car rental office opposite (he had been presented with the car by Q posing as a rental agent earlier in the movie).
Renault 11
Back to Roger Moore and his final film as Bond. View to a Kill premiered in 1985 and brought to the screen everything movie goers had come to expect from the franchise. Grace Jones came close to stealing the show as May Day (you get a bonus point if you knew that she also starred in Citroen's advertising campaign for the CX model in the same year).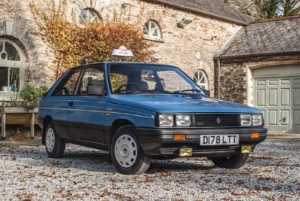 Renault 11 sold by Historics, December 2020 £2,128 – © Historics
However, it was a scene set in Paris that gave Renault's 11 family hatchback a starring role.
The scene is set when Jones's character parachutes from the Eiffel Tower into a waiting speedboat (of course!) with Bond in hot pursuit. He commandeers a Renault 11 taxi and chases the boat along the roads bordering the Seine, using a variety of vehicles to manoeuvre around obstacles. This action leads to the Renault losing firstly its roof and then rear half – the filmmakers conveniently ignoring the fuel lines presumably being severed, thus rendering the car immobile. But this is 007, so we can forgive that.
The scene was orchestrated by Remy Julienne, the famed stunt driver and co-ordinator. He also directed the Citroen 2CV scene that started our story, as well as the famous chase scenes starring the Mini Cooper and Turin police in The Italian Job.
Lotus Esprit
We end with a car that we think rivals the DB5 as the 'best' Bond car. Contentious? Absolutely, but if you grew up during the 1970s and 80s, Lotus's Esprit was the Bond car.
The Spy Who Loved Me, released in 1977, was Moore's third film as 007. His previous two had featured a flying AMC Matador, an AEC Regent double decker bus and a corkscrewing AMC Hornet.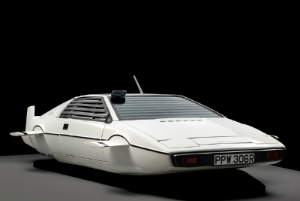 007 Lotus Esprit 'Submarine Car' sold by RM Sotheby's, September 2013 £616,000 – Tim Scott ©2013 Courtesy of RM Auctions (underwater photo Don Griffin ©2013 Courtesy of RM Auctions)
The new film coincided with Lotus' newly released sports car. The Esprit was launched in 1976 and, penned by Italian master Giugiaro, featured a wedge shape that screamed "1970's". The look was enhanced with Wolfrace wheels and tartan check interior trim.
Could there be a better car for Mr Bond to drive? Lotus certainly didn't think so; their PR department arranged to have a car delivered to Pinewood Studios and parked prominently where Bond producer 'Cubby' Broccoli could not fail to notice it.
Moore took delivery of a white Series 1 Esprit registered PPW 306R from Q on the Island of Sardinia, as usual ignoring attempts to explain the car's numerous special features.
On departing arch villain Stromberg's sea-based stronghold, they are chased by (no arguments, please), the ultimate henchman, metal-fanged giant Jaws and his colleagues in a Ford Taunus. Bond employs the Lotus' rear-mounted cement nozzles to disable his pursuers. Prior to this, we were treated to an exploding sidecar.
A helicopter chase then ensues, with Bond ably demonstrating the Esprit's superb chassis on the twisting coastal road.
When we say 'Bond', we don't actually mean Roger Moore. When the car was delivered by Lotus project engineer Roger Becker. The stunt driver was unable to make the car behave in the way that director John Glen wanted, so Becker stood in – and remained as official stunt driver for the movie for a further seven weeks.
Of course, the Esprit ended its road-based chase by zooming from a pier into the sea, turning into a submarine and shooting down the pursuing helicopter before seeing off the inevitable divers sent to attack it, before surfacing on a beach and, we presume, driving to the nearest bar for its driver to enjoy a well-deserved Martini.
There are of course numerous other motor cars that Mr Bond has been seen driving. Timothy Dalton in an Audi 200 quattro Avant, Pierce Brosnan's Lada Niva, even Daniel Craig in the then-new Ford Mondeo.
As Craig hangs up his Walther, we wonder what the future will hold for 007 in a world very different to 1962. With both the latest Aston Martin DBS and Valhalla making appearances, plus, of course, his most famous DB5, we firmly believe that whoever takes on the role next, and however 007 continues to thrill audiences, motor cars of both the exotic and more attainable variety will continue to play their part.
Glenmarch auction tracker