Two hundred and forty three miles per hour.
That's the length of a standard English football pitch in around a single second.
In 2020, that's an impressive top speed for any roadgoing motor car and remains the preserve of the breed of vehicle known as the hypercar. In 1994, it was genuinely ground breaking and raised the bar to a level which stood for 12 years and remains only slightly "slower" than the current record holder.
And this from a car designed in the Home Counties in the UK, a car designed with ruthless focus on saving weight and a car which remains widely regarded as being the car that raised the bar for outright performance that continues today.
We'd be shocked if you hadn't already guessed that we're talking about the McLaren F1 and it's the next in our series looking at motoring icons.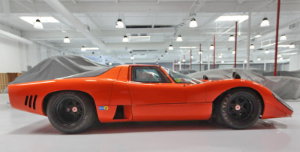 1. McLaren M6GT – courtesy of Bonhams
Whilst the F1's story begins in 1988, its origins stretch back a little further – to 1968 in fact and the M6GT, conceived by Bruce McLaren, the company's founder. He wanted to produce a competitive mid-engined closed sports racer and the M6 was the result. Only two were built as McLaren were unable to satisfy the required 50 for homologation purposes and Bruce used one as his daily transport.
Powered by a Chevrolet V8 and with a top speed of around 165mph, the bright red car was effectively a road legal racing car. Sadly, McLaren was taken from the automotive world in an accident whilst testing at Goodwood in 1970 and the project was shelved soon after – many consider that the M6 would have challenged the might of Porsche and Ferrari on both track and road and we can only wonder also.
McLaren rebuilt after the untimely loss of their founder to become one of Formula One's powerhouses and remain the second most successful team in the sport behind only Ferrari with 182 wins and 12 driver titles – without wishing to drift away from our subject, after some years away from the top, we can't help but think that more silverware will be on display at the Woking HQ before too long again.
Part of the resurgence was attributed to Ron Dennis, who took over the company in 1981 and within 3 years returned the team to winning ways – illustrated crushingly in 1988 with a display of dominance that included 15 of 16 wins and pole positions, despite the at times volatile driver pairing of Senna and Prost.
It's fitting then that the F1 story starts with a meeting after that year's Italian GP which ironically was the only race McLaren didn't win that season. Dennis wanted the company to expand beyond motor racing using its engineering expertise and he and his fellow directors wanted a road car built without compromise and to set new standards in every area – simply copying the existing brief for a supercar was deemed to be too easy.
It could be argued that fate played as much of a part in the F1's conception as the tragic events of June 1970 as McLaren had already employed a South African born designer widely regarded as being one of the best of his generation. Gordon Murray had joined the company in 1987 as technical director, having spent the previous 16 years with Brabham and designing the cars which gave Nelson Piquet 2 driver titles and also the ingenious "fan car", which featured an innovative rear mounted fan to assist with its aerodynamic performance – not assist with engine cooling, the defence used when the FIA banned the car after its sole outing. It won by the way – with a margin of over 30 seconds.
Murray had also wanted to create a road car and his brief, hand written in detail on 4 sheets of A4, was uncompromising. It had to include Formula One technology in suspension, transmission, construction materials and aerodynamics, no use of plastic and of course the famous 3 seat layout, positioning the driver centrally to optimise weight distribution but more crucially to provide a straight line between the driver and the pedals as almost every other supercar suffered from pedal offset where the front wheelarch intruded into the cabin; McLaren solved this by seating the driver centrally.
Interestingly, it was not originally conceived for motorsport use. Murray believed that this would lead to a compromised design as a road car and Dennis stated that the goal was to produce not a racing car for road use but the most complete sports car ever made – more on this later…
The project started in earnest in 1990 and the original concept was further refined by the focus on how the finished car would work – 1000kg maximum weight, no more than 1.8 metres wide and with engineering solutions to the nuances of the mid-engined car which can create instability – the same for the way air flows around, over and above most road cars.
Murray maintained then that performance numbers were not the primary objective, a position that he maintains today. The consensus of a 5 litre V12 engine was to provide the car with ultimate GT capabilities – to be able to move its 3 occupants in comfort and have room for some luggage.
The engine had to be naturally aspirated. That requirement was non-negotiable. Honda were approached initially, as engine partners to the hugely successful F1 team but the discussions did not produce an engine. A meeting with Paul Rosche, head of BMW Motorsport's engine division sparked the development of what became the heart of the F1 – and contributed to its performance. It had to be compact and produce at least 100bhp per litre; BMW were already developing a V12 engine at this point but it was deemed to be too large and too heavy.
BMW's engineers worked hard to deliver a power unit that met Murray's brief and in only 9 months. The result was a 6064cc litre V12 producing 627hp. It was a compact unit and only just missed the 250kg weight target. You'd be forgiven for thinking that the engine employed exotic materials in its construction and technology that was left by an alien species centuries before but the simple fact is that BMW Motorsport know how to build engines – there are few motoring enthusiasts who would argue with that.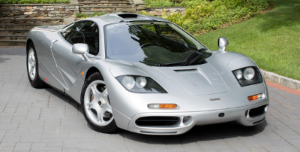 2. McLaren F1 – courtesy of Bonhams/P. Litwinski
As the final design was signed off and production began, more unique processes were used. The car was the first with a monocoque constructed entirely from carbonfibre (and in 48 separate sections), a material previously reserved for motor racing or for parts of a car's bodywork – Ferrari's 1985 288 GTO and 1987 F40 being earlier examples of this. Titanium and magnesium were also involved, notably in joining suspension to body, providing both strength and light weight.
The F1 was designed to be a driver's car. This meant no ABS, no traction or stability control and no power assisted steering. These items, whilst undoubtedly convenient, were considered to both dilute the feel of the car and of course add unnecessary weight.
An inherent part of the F1's story has to be the level of true innovation in its engineering. Whilst the engine was relatively conventional in its design, other areas were much less so. We've mentioned the use of composite materials already, but what about the doubling up of the rear silencer to act as an impact absorber, or the use of a carbon clutch and removal of the flywheel? The latter again saved weight but also reduced the amount of inertia, giving the F1 a throttle response unlike any other supercar before (and a good many since).
We could add the engine being a stressed and load bearing part of the overall chassis, the revolutionary suspension units – the list simply goes on.
Murray remains widely and rightly credited with the F1's core design philosophy but he was also able to recruit the best engineers to join his team. In doing so, the ongoing mantra of zero compromise was maintained, the goal being at all stages to simply produce the best sports car ever made.
He was joined by ex-Lotus chassis engineers and similarly skilled specialists in areas such as stress analysis and composites but arguably the greatest addition to the team was respected designer Peter Stevens – an industry veteran of over 25 years at this point. Stevens joined from head of design at Lotus and was instrumental in transferring Murray's sketches into solid form.
It's fair to say that the F1 has a very simple, pure shape. This ingenuously hides much of the car's packaging including the set height and width parameters (although the latter had to be tweaked to allow for the suspension) and the 3 abreast seating – this could not be a cramped and compromised experience for those fortunate enough to experience F1 ownership. The design also includes the dihedral or butterfly door design, opening upwards and forwards.
The size of the final engine design dictated wheelbase and the short overhangs and relatively narrow width created a car just over 1.8 metres wide and just under 4.3 metres in length. To give this perspective, a 2020 Ford Focus is both wider and longer – and the 1992 Ford Escort was only a few centimetres smaller in length and width.
Kenwood created a bespoke audio system for the car – the only company who successfully took on the challenge of creating a system which not only weighed approximately half that of a conventional car radio but with a 10 disc CD changer (remember CD's..?) that would operate normally even under the forces exerted when the car was being driven spiritedly.
Facom made the toolkit for the car from Titanium – coated with gold. This rather nicely complemented the gold leaf used in the engine compartment, not because the F1 was in any way an ostentatious bauble on wheels, but simply because gold is a better insulator and reflector of heat and is easier to mould.
The toolkit was somewhat redundant however – not because F1 owners were either not competent or unwilling to tinker on a Sunday morning but because every F1 was linked directly to the factory via an onboard 14.4k modem and either have faults diagnosed or a technician despatched to fix the problem. And this was at a time when Wi-Fi didn't exist and a mobile phone let you call and send a text and little else.
Even this proved largely unnecessary as the F1 is also renowned for its reliability – many owners have spoken about the car's ability to not simply perform in a way few other cars have managed, but to do so faultlessly and repeatedly. F1's tend to spend time at either the factory or a very small handful of trusted experts for cosmetic upgrades and relatively routine servicing activities.
McLaren made 64 cars plus 5 prototypes – the latter being a regular sight on the roads around the Woking factory and as a Woking boy, it was always a treat to see one, even if it was simply caught in the drudgery of rush hour traffic plodding towards the M25 on a drizzly Monday morning.
The cars were built entirely at the factory in the Surrey town which had been home to McLaren since 1980. The factory was found in the same industrial estate on the outskirts of the town that was home to the racing team and a few minutes' drive from the original factory.
The car's list price at launch was £540,000 and to put that into context, the price of a new BMW M3 was around £19,000 and the average UK house price was just over £55,000.
In 1994, Autocar was the first magazine to officially road test the car (and I still have a copy of that magazine tucked away safely) and its cover still makes for startling reading with the benchmark 0-60mph reached in 3.2 seconds, 100 in 6.3 and 200 in 28. Top speed was estimated as beyond 230mph.
You can read a redraft of the original test here.
It's perhaps a further testimony that many of the cars have remained in long term ownership with several high profile owners enjoying their F1's for up to 20 years if not from brand new.
Remember we mentioned earlier that motorsport wasn't on the radar when the car was conceived?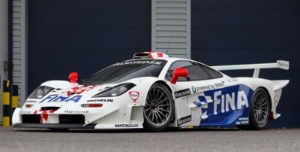 3. McLaren F1 GTR Longtail – Mathieu Heurtault © Gooding & Co
The car's incredible performance meant that several owners immediately saw its potential in the newly created GT1 sportscar racing series and persuaded Murray to create a racing variant. This was named the GTR and featured added aerodynamics, notably the addition of a rear wing and although power was reduced when compared to the road car, the removal of all of the comforts associated with normal use more than compensated.
Clearly, those who managed to convince Murray were onto something as the car scored a victory at its maiden race at Le Mans in 1995, finishing first, third and fourth with Ray Bellm (one of those who approached Murray initially) driving the 4th placed car.
He and another of the 'persuaders', Thomas Bscher also finished 1-2 in the BPR racing series in 1995 with Bellm going on to further motorsport success, chairing the BRDC and founding an owners club for the F1, offering owners unique events and tours and more than once assembling multiple examples of the car. The 106 Drivers Club references the production total of the car.
Bscher went onto head up Bugatti and oversaw development of the car which would ultimately take the F1's accolade as the fastest production car – more on the Veyron another day.
1995 saw McLaren tackle Le Mans. Other writers have covered the events of June 1995 in greater and more technical detail but the short version is that they won overall – at the first time of trying. And the F1 also finished in third, fourth, fifth and thirteenth places. Two other cars failed to finish.
Whilst the winning car remains with McLaren, the others are all now owned privately and amazingly 5 have been converted for road use – does this make the F1 the last car one could truly drive to France, win Le Mans and then drive home again? Perhaps a minor distortion but the modifications made for racing were primarily to improve aerodynamics and the removal of all creature comforts from the car – in reality, with a set of road legal tyres, the F1 could have been driven home again!
1996 saw BMW step up to assist in keeping the car competitive. This saw the introduction of improved aerodynamics, the most obvious being extended rear bodywork, referred to as 'longtail' specification.
This was further improved in 1997 when the BPR series became the FIA GT Championship and whilst these years didn't see a repeat of the success of 1995, the F1 claimed a total of 38 wins during its racing career and many examples can be seen racing in the historic sector today – we aren't sure whether to feel rather old when referring to a 25 year old car as 'historic'.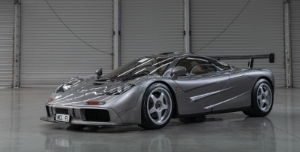 4. McLaren F1 LM-Spec – Andrei Diomidov ©2019 Courtesy of RM Sotheby's
The racing success sired 5 cars made to LM specification with exterior modifications which broadly resembled the earlier GTR variant. It also received a power upgrade, to 670hp although top speed was reduced due to the additional aero fitted.
The F1 GT was built to satisfy homologation rules going into the 1997 FIA GT Championship; the rules demanded that a single road car be built but a further 2 were made on customer request; they all feature long tail bodywork but without a rear wing.
A total of 106 cars were made, of which 78 were road cars and 7 prototypes.
Today, the F1 remains an icon for many. The combination of such focused design and engineering, the ruthless pursuit of efficiency through lightness, the innovation across all aspects of the car and of course the numbers, all of these combine to keep the car on many people's dream car list – it's certainly on mine.
It also remains the preserve of the very fortunate few. A road car will cost at least £12,000,000, an LM more and a GTR north of £20,000,000.
Lockton are privileged to be entrusted with the insurance of a number of these amazing motor cars and we're delighted that one client was good enough to share his ownership experience with us. you can read this interview very soon!
It isn't for us to speculate on whether the F1 will one day be worth as much as a Ferrari 250 GTO – almost 3 times as many McLarens were made for a start – but we do know that both cars occupy similar iconic status and the F1 remains in the official Top Ten of 'world's fastest cars' even today; that Top Trump statistic alone makes it worthy of its place.
Neither are we going to muse over whether cars which have subsequently raised the bar for top speed have been better or not than the McLaren. Such discussions have been had by people far more expert than us, including those who have driven both the F1 and its contemporaries and those that came after.
Gordon Murray continues to innovate and his recently revealed T.50 has many hallmarks of the F1 in its design philosophy – highlighting again that the F1 remains a thoroughly modern car despite being launched 13 years before the world saw its first iPhone.
So our story is coming to its close but we'll end where we began with that number.
Racing driver Andy Wallace reached an officially recorded maximum of just under 243mph in McLaren's own XP5 prototype in Germany in 1998 (the car was 5 years old by then) and this was accomplished by simply increasing the rev limit; Wallace felt that at this point the car had given everything it could and whilst no road car has been officially recorded near this maximum since, it remains an astonishing effort.
It also holds the record for the fastest naturally aspirated production car – a record which it now seems likely won't be beaten.
You can watch here.
So there you have it. A brief story of a car which is not only icon but a benchmark setter. Built in a factory in Surrey and still capable of amazing feats almost 30 years later. We hope you enjoy reading this as much as we've enjoyed researching and writing it and stay tuned for our next look at a motoring icon and remember also to watch out for our chat with one of the fortunate few who owns a McLaren F1!
McLaren F1 auction tracker here:

McLaren Auction Activity
| | | | | | |
| --- | --- | --- | --- | --- | --- |
| Photo | Model | Date | Estimate | Result | Auction House |
| 1 | McLaren M6GT | 24.05.15 | €190-230k | not sold | Bonhams |
| 2 | McLaren F1 | 18.08.17 | not given | $15,620,000 | Bonhams |
| 3 | McLaren F1 GTR | 18.01.14 | $5-7m | $5,280,000 | Gooding & Co |
| 4 | McLaren F1 LM-Spec | 16.08.19 | $21-23m | $19,805,000 | RM Sotheby's |