It is always a pleasure to write about the fastest, most expensive and glamorous cars on the market. After all, these cars have had aspirational value since they adorned our bedroom walls as children. It's also the sector that Lockton Performance has specialised for over 30 years, arranging insurance for thousands of incredible cars.
However, there are some cars which, though not necessarily the fastest or most glamorous, play such an important role in the story of the motor car that they simply cannot be ignored. Cars like the Ford Model T.
As the original universal car that 'put the world on wheels', the Model T is arguably one of the most important cars ever made, and holds great cultural and often personal significance. Kieran Hurley, Lockton Account Executive based at our Belfast office, spoke on this:
"Henry Ford's father emigrated from my home county, Cork, and I always had a soft spot for the story of the dirt-poor Irish emigrants' children doing so well." As an aside, the Ford Fairlane got its name when Henry's father stayed at the Fair Lane in Cork City the night before he left for the US.
A pioneer of the mass-production of vehicles, in his Model T, Ford was able to make an 'everyman' car for an affordable price that many manufacturers still look to emulate today. Prior to Ford, cars were the preserve of the elite.
The moving assembly line created production process, which heralded the age of the machine. The production line method is still in use today across a wide variety of industries.
The legendary 'Any colour you like as long as its Black' statement. Still known over 100 years later.
Paid his workers well and help 'drive!' prosperity in America.
It was also an early example of successful of market segmentation, with 9 body styles based on the one platform. The same thing is still happening today – witness VW/Seat/Audi/Skoda and the platform sharing that has created so many models from sports coupe to family SUV."
You must by now have realised that we are talking about Ford's Model T – arguably one of the most important cars ever made.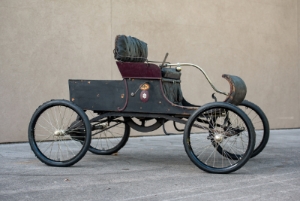 Oldsmobile Model R 'Curved Dash' Runabout sold by RM Auctions $40,700 - 2018 © RM Auctions
The tale begins at the dawn of the twentieth century. The motor car was already establishing itself as the transport of choice – but only for the elite classes, as the cost of owning a car was prohibitive for all but the wealthiest. As an example, the 1901 Curved Dash Oldsmobile sold for around $650 (USD) when the average annual American wage was just under $450.
Henry Ford was not an automotive engineer. He was the chief engineer for The Edison Illuminating Company of Detroit, but worked on an engine of his own design at home. Legend has it that this early prototype first ran, for a short period, on Christmas Day 1893 – Mrs Ford apparently even assisting between cooking Christmas dinner.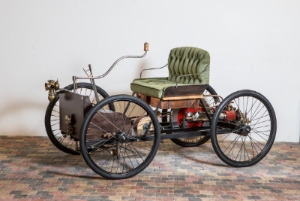 Ford Quadricycle Replica sold by Bonhams €52,900 - © Bonhams
In 1895 – engine now perfected – Ford developed his Quadricycle, and on June 16, 1903, the Ford Motor Company was incorporated – undoubtedly a pivotal moment in automotive history.
Ford Model A sold by Bonhams $137,760 - © Bonhams
Ford's first recognisable car was the 1903 Model A, a small two-seater roadster, which was visually similar to its counterparts, such as the aforementioned Curved Dash Oldsmobile. The name was derived from the front bodywork which curved back towards the vehicle's occupants. The engine, transmission and chassis was made for Ford by the Dodge brothers, founders of the motor company of the same name.
Ford Motor Company assembled the cars and added wheels, body and trim at the factory on Mack Avenue in Detroit, which they had acquired when the company was incorporated. Such was the success of the car that, by 1905, they had already outgrown the premises and subsequently relocated to a much larger site in Detroit's Milwaukee Junction area, the city having already begun to firmly establish itself as the centre of automotive manufacturing for the United States.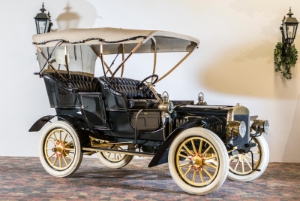 Ford Model B sold by Bonhams €419,750 - © Bonhams
Since 2000, this site has been the home of the Model T Automotive Heritage Complex, a museum dedicated to the car and its development. During renovation, a section of boarded-up offices was uncovered and original drawings and designs were discovered, having been left untouched for almost 100 years.
The Model B followed in 1905. This was Ford's first four cylinder car and, priced at around $2,000, its most expensive to date. At this point, Ford was being supported financially by Alexander Malcolmson, a Detroit coal dealer, and it was at his insistence that the Model B was designed to compete with other car makers' products and appeal to the affluent customer. Ford disagreed with this rationale and was proved correct; Model B sales were poor, as were those of its successor, the six cylinder Model K.
Ford's goal was to produce an affordable car for the masses, as he was convinced that this would encourage more people to buy his cars and lead to greater sales. This differing of opinion led to Malcolmson selling his shares in the company in 1906, leaving Ford as majority shareholder.
This left Ford free to fulfil his vision. From the outset, his goal was clear. He stated that "the greatest need today is a light, low-priced car with an up-to-date engine with ample horsepower, and built of the very best material… It must be powerful enough for American roads and capable of carrying its passengers anywhere that a horse-drawn vehicle will go."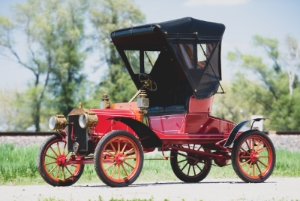 Ford Model N sold by RM Sotheby's $41,250 - ©2019 Courtesy of RM Auctions
The next model produced was the Model N. this was a two seater model, but unlike many of its contemporaries, it used a four cylinder engine and shaft drive. Vehicles offered by competitors remained powered by one or two cylinders and used chain drive. It was also cheaper, at around $500. It quickly became America's best-selling car.
This was the starting point in the ambition of bringing motoring to the masses. The Model N was followed by the R and S models – both larger and slightly more expensive, but only capable of carrying three passengers, leaving the goal only partially reached.
Work on the next car started in 1907. At this point, Ford was still making cars in the traditional way – with each unit remaining static during assembly and built by a single team of workers. Ford worked on designing not only a new model, but a new way of producing cars to speed up the manufacturing process and also make it more cost-effective.
Interestingly, this production process did not start immediately and neither was it entirely revolutionary, as Oldsmobile had already begun making cars using a variation of the rolling assembly line several years earlier.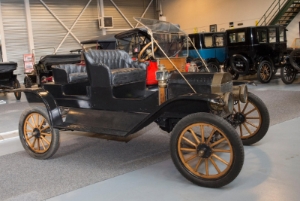 Ford Model T Runabout sold by Bonhams €24,150 - © Bonhams
The first prototype Model T was shown in September 1908 and was revolutionary in terms of design, including a lightweight steel alloy, removable cylinder head for easy servicing and repairs and a three-point suspension system to handle difficult terrain. It was priced at $850 when launched in October 1908, which represented excellent value as it could easily transport four adults – an ability previously reserved for considerably more expensive cars.
Ford himself demonstrated this by taking the first Model T produced on a 1,600 mile hunting trip to Wisconsin, the car running without fault for the entire journey.
Unsurprisingly, the car was an immediate success. Ford's vision was accurate, as it appealed to average Americans from the start, so much so that six months after launch, he was forced to suspend production as demand was overtaking the factory's ability to make enough cars.
This firstly necessitated another change of address, relocating to a much larger site at Highland Park and a purpose built factory, designed by Albert Kahn. Kahn was responsible for much of the commercial architecture of Detroit in the early part of the twentieth century.
The new factory housed facilities for all aspects of the manufacturing process, including casting, machining and assembly, making it a highly efficient site. This drive for efficiency enabled Ford to keep manufacturing costs lower than the existing industry level and pass these savings to the customer, further increasing sales.
At the heart of the entire process was the way the cars were assembled and the inspiration came from a surprising source – the meat industry. Ford and his team studied the 'disassembly' process, where carcasses were moved along a line via conveyor belts and each worker was responsible for removing a specific cut of meat.
Ford realised that the same methods could be applied in reverse to the production of cars, with the cars moving along a production line and teams being responsible for a specific assembly process. The bare chassis would start its journey, with engine, transmission, running gear, interior and bodywork being added at set stations.
The ethos started with small components, with each worker responsible for a relatively small task in isolation, passing their completed work to the next person in line. This was quickly scaled up as engineers realised that assembly times were being reduced so much and it was applied to engines and transmissions. The Model T was offered with a 2.9 litre, four cylinder engine and a three-speed gearbox (two forward and one reverse).
This created a vastly improved assembly 'line' which was first put into practice in 1913 and remains at the centre of almost all automotive production over a century later. Naturally, this early process was crude by modern standards, with men pushing cars between stations for the next team to begin their part of the assembly.
Ford focused on continually improving their production procedures and used them to promote the car, at one point photographing 1,000 Model T chassis outside the plant, representing a single shift's 9-hour production in August 1913 – and this before the line was fully implemented.
While some workers felt that the new methods moved them away from being skilled craftsmen to assembly line workers engaged in a single task, the more obvious benefits from efficiency included better pay for workers. Ford was able to more than double the pay for its workers to $5 a day at the start of 1914. This move made national headlines, and Ford was rightly hailed as a benevolent employer, reported at one stage to have invested profits from sales into funding improved pay for his staff.
The manufacturing process continued to evolve, with chain driven pulleys moving vehicles along the line, creating a more regular process and further improving efficiency, with production peaking at around 70,000 units a year by 1912. The basic price also reduced as production increased, to around $345, making the car even more attainable to the masses.
Ford Model T C-Cab Delivery Van sold by Bonhams $35,200 - © Bonhams
This also enabled Ford to offer customers various bodystyles. The original car was a four-seater open bodied design and this remained the most popular, but the car was made available as a saloon, van and even agricultural use. It also saw service as a fire engine chassis and as an ambulance during the First World War.
Production methods were replicated in other territories globally, with the Model T being made in factories around the world. 750,000 were made in Canada, in right hand drive for distribution throughout the former empire. The plant in Manchester was built in 1911 to produce cars for both the UK and European markets and they were also built in South America, Asia and Australia, although most remained firmly American-made.
Henry Ford was quoted as saying that anyone could have a Model T, so long as it was black, but in the early years of production, this was not in fact a colour offered. Black was a popular choice for Ford as it was cheaper, more durable and also the quickest drying paint, which sped up the production process.
The Model T remained in production for 19 years with over 15,000,000 cars built, its design remaining fundamentally unchanged and this, ironically, became its downfall. Other manufacturers had seen the advantages of Ford's revolutionary design and production processes and by the end of its run, it was in need of replacement.
This aside, it remains a car that changed the way cars were both designed and manufactured. It was also the first car to be marketed to the masses and not only those fortunate enough to be able to afford a motor car. Many of the processes remain in place today – notably, the rolling assembly line, which is the way almost all manufacturers have continued to make cars for more than 100 years.
The concept of producing multiple styles of body from a single chassis is one that remains a staple of mainstream car manufacturing today. From the humble hatchback through to luxury sports cars, many apparently different vehicles are based around a single platform.
This success makes one wonder whether cars such as BMW's Mini would have been made available with millions of possible colour, model and specification variants, had it not been for Henry Ford giving the customer what they wanted – whether in black or indeed any other colour.
In many ways, the Ford Model T could be among the most iconic cars ever made. Indeed, it was crowned car of the century in 1999, beating cars such as Volkswagen's Beetle, Austin's Mini and the Porsche 911, the last iconic car we looked at.
It was never the most expensive, glamorous, rare or exotic vehicle – but it wasn't intended to be. What it did do was to irrevocably change the way cars were made and bought, and for those reasons alone it deserves its place in our Motoring Icons series.